Fashion Talk!
Attention, gents! We catch up with Matt Hambly, Men's Health style guru extraordinaire, on what's hot this season
We loved Matt's video for the #Swindon Designer Outlet on his favourite picks for autumn/winter, so we decided to dig a little deeper.... but kipper ties, surely not!?...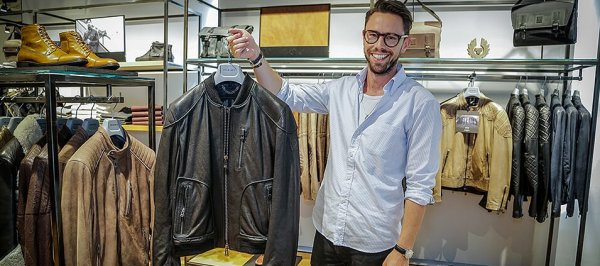 What are the most hard-working items in your wardrobe?
It sounds obvious, but I live in plain white or black T-shirts, navy trousers and converse trainers. They're all things that are quite easy to dress up or down depending on what I'm doing that day. I also have an old leather biker jacket that's slightly too small but never leaves my back.
How do you stay updated with current trends?
I go to the menswear shows twice a year as well as various trade shows and events. These are places that are as important, trend wise, for the clothes on the guests as they are for the clothes on display. That aside I like to look at what people wear on nights out at the weekend. That's always a good barometer of immediate trends that everyone is wearing.
Any particular colour schemes you're favouring this season?
There's a lot of golds, browns and moss greens- you'd call them jewel colours- that are proving popular. It's a lead on from the 70s resurgence that's been taking place for a couple of seasons now. And that's seventies as in corduroy and the colour scheme rather than flares and kipper ties.
What's your favourite trend this autumn/winter?
I really like the idea of elevating streetwear and making it smart. I never thought I'd be able to get away with a pair of jogging bottoms to a pub, let alone in the office but lots of brands have made versions that will do both.
Which labels are your favourite and why?
I love Levi's because it does such classic stuff- their denim jeans are obviously great (I particularly like the 519s) and their trucker jacket is one I'd buy every year if I had to. I also really like what Belstaff are doing at the moment. Their leathers and shearling overcoats are showstoppers.
Winter Whites are a key trend this season. Is this an easy trend to pull off?
White's easy enough to pull off, it's the upkeep that's tricky. White jeans look great with a big coat and some boots but it's a braver man than me who'd risk a pair of pearly white jeans in the depths of a British Winter. I guess the other thing to avoid is wearing all white. Do the top half or the bottom half but don't do both. Oh and don't wear white trainers with white jeans either. Go for black or blue instead.
Do you tend to use accessories?
I wear a bit of jewellery and a watch everyday, but it's usually when I'm dressing up a bit that I use accessories. I'll wear a tie or even a bow tie if I'm going to something formal. I'll also make sure I've got a pocket square in the breast pocket of my suit as well. Who's your style icon? You can't beat David Beckham, can you? The man always looks impeccable but effortless. And Bowie- he had style in spades. Basically anyone from in and around London called Dave.
Shoes without socks, yes or no?
Yes, but only if you're wearing shoe liners- those invisible socks that sit beneath the lip of your shoe. Also it's the winter now. You shouldn't still be wearing shoes with no socks after Halloween.
How has being a Style Editor affected your own view of your fashion choices?
I think I try and make sure I always look presentable. It's not ideal if you have to go and meet someone who's expecting a 'style editor' and I turn up in dirty old jeans and a comfy sweater!
Thanks for the chat, Matt!
You can see some of Matt's favourite autumn/winter picks here: